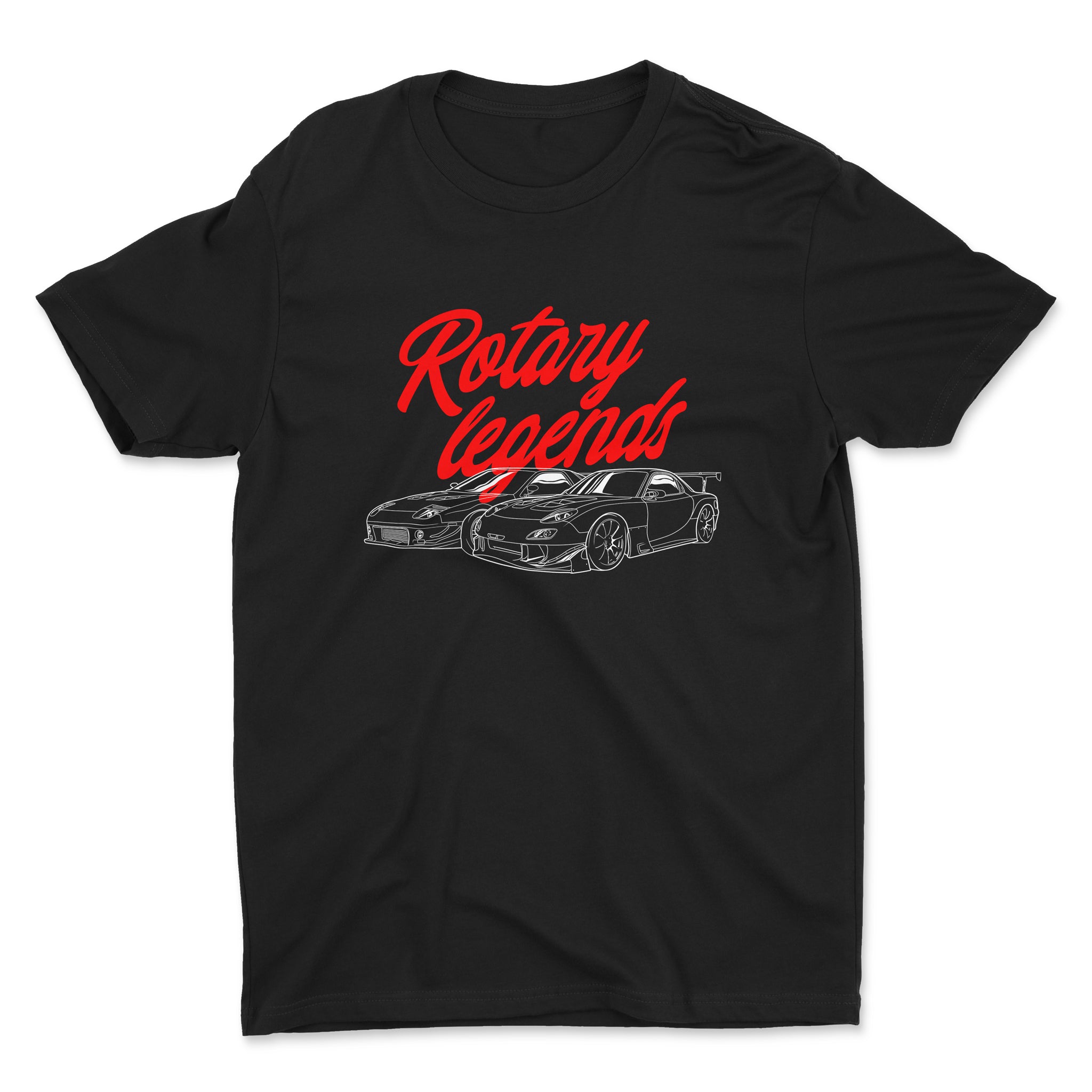 Rotary Legends T-Shirt
---
Step into the world of Rotary Legends with our captivating t-shirt featuring a stunning silhouette design of two Mazda RX-7s. Celebrating the iconic status of these legendary vehicles, our t-shirt pays homage to the sheer power and distinctive style that make them true rotary pioneers.
Immerse yourself in the rich heritage of Mazda's Rotary Legends as you wear this t-shirt, which elegantly captures the essence of the RX-7. The meticulously crafted silhouette design showcases the sleek curves and dynamic lines that define these automotive marvels, instantly recognizable to any car enthusiast.
Crafted with the utmost care, our Rotary Legends t-shirt offers exceptional comfort and durability. Made from premium quality fabric, it ensures a soft and long-lasting fit that keeps you stylishly comfortable all day long. The design is meticulously printed using high-resolution techniques, allowing the intricate details to shine and capturing the spirit of these rotary-driven icons.
Wearing our Rotary Legends t-shirt is not just a fashion statement, but a declaration of your love for automotive excellence. Whether you're attending a car show, exploring the open road, or simply expressing your passion in everyday life, this t-shirt is the perfect choice for showcasing your admiration for Mazda's Rotary Legends. It's also an ideal gift for any rotary enthusiast, allowing them to proudly display their allegiance to these remarkable vehicles.
Embrace the heritage, power, and allure of the Rotary Legends with our captivating t-shirt. Join the ranks of rotary enthusiasts worldwide and make a statement that truly embodies the legacy of Mazda's iconic RX-7.
Designed and tailor-made for the car guys.
100% Soft Ring-Spun Cotton.
Pre-Shrunk | True To Size.
Tapered body with fitted arms.
Made in the USA, with an additional warehouse in Europe.
We primarily use DHL to ship out orders to our customers. This may vary depending on countries and available carriers.

We dispatch five days a week and aim to process all orders within 24 hours. Orders placed over the weekend & holidays will be processed the following business day.

Please see to our shipping policy for more information.
Choose options